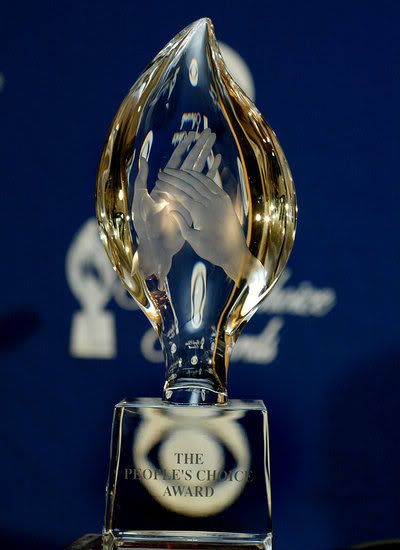 La ceremonia de entrega numero 35 3de los People´s Choice Awards a lo mejor del cine, la television y la musica se realizo ayer por la noche en el auditorio Shrine de Los Angeles, marcando oficialemte el inicio de la temporada de galardones, que continuara esta noche con los premios de los criticos de Estados Unidos, el domingo con los Globos de Oro y con la ceremonia del Oscar a finales de febrero.


La gran ganadora de la noche fue Batman: El Caballero de la Noche, llevandose el premio a Pelicula Favorita del Año, Pelicula de Accion, Mejor Elenco, Mejor Super Heroe, Mejor Pareja Protagonista.
Entre otros ganadores destacados se encuentra Wall-E como Mejor Pelicula Familiar y a Will Smith como Mejor Actor de Accion por Hancock y Mejor Actor Protagonista por Siete Almas.


En cuanto a tv, House se alzo como la gandora a Mejor Drama, Two and a Half Men como Mejor Comedia, Los Simpsons como Mejor Comedia Animada y Ellen Degenres gano al Mejor Anfitrion de un Talk Show por su programa El Show de Ellen Degeneres.


En musica resultadoron ganadores Carrie Underwood, Kid Rock, Katty Perry, Alicia Keys entre otros y hasta Mamma Mia gano por Mejor Cancion a un Soundtrack por la cancion Mamma Mia.


Esta es la lista completa de ganadores:
Movie: "The Dark Knight"
Family movie: "WALL-E"
Action movie: "The Dark Knight"
Comedy movie: "27 Dresses"
Drama movie: "The Secret Life of Bees"
Independent movie: "The Secret Life of Bees"
Favorite cast: "The Dark Knight"
Male movie star: Will Smith
Leading man: Brad Pitt
Male action star: Will Smith
Female movie star: Reese Witherspoon
Leading lady: Kate Hudson
Female action star: Angelina Jolie
On-screen matchup: Christian Bale and Heath Ledger, "The Dark Knight"
Superhero: Christian Bale as Batman, "The Dark Knight"
TV drama: "House"
TV comedy: "Two and a Half Men"
TV animated comedy: "The Simpsons"
Sci-fi/fantasy show: "Heroes"
Reality show: "Dancing With the Stars"
Game show: "Deal or No Deal"
Male TV star: Hugh Laurie
Female TV star: Christina Applegate
Talk show host: Ellen DeGeneres
Scene-stealing guest star: Robin Williams, "Law & Order: Special Victims Unit"
TV drama diva: Kyra Sedgwick as Brenda Johnson, "The Closer"
New TV comedy: "Gary Unmarried"
New TV drama: "The Mentalist"
Male singer: Chris Brown
Female singer: Carrie Underwood
Group: Rascal Flatts
R&B song: Alicia Keys, "No One"
Pop song: Katy Perry, "I Kissed a Girl"
Rock song: Kid Rock, "All Summer Long"
Country song: Carrie Underwood, "Last Name"
Hip-hop song: Flo Rida featuring T-Pain, "Low"
Combined forces: Jordin Sparks featuring Chris Brown, "No Air"
Song from a soundtrack: "Mamma Mia" from "Mamma Mia!"
Funny male star: Adam Sandler
Funny female star: Tina Fey
Star under 35: Carrie Underwood
Online sensation: "Dr. Horrible's Sing-Along Blog"
User-generated video: "Barack Roll"


Felicidades a todos los ganadores.